Recently, I was asked on my Instagram page how to support a loved one start decluttering. It can be really difficult when we can see someone we care for filling their home with stuff in a way that may be detrimental to them. I've taken a while to post as I wanted to give this some thought. There is no one-size fits all approach so the advice below is general. There are exceptions to this, but I think these are some tips that would help us open up the conversation and not make things worse by damaging the relationship.
Starting the conversation
First things first… it is absolutely not our place to judge, lecture, tell someone they MUST do something, or push them into doing things they don't want to do. None of us like this and it makes all of us less likely to change. This attitude can keep people stuck where they are.
So rather than going in with an attitude of 'you must get rid of this stuff' instead have a conversation about what keeping the stuff is doing for them. Be genuinely interested and explore it with them. People keep things for numerous reasons. Some include helping reduce their worries, feeling comfortable, or thinking they need to if they've had times of deprivation. People can keep things for reasons we disagree with. Go in with the understanding that it is reasonable for them to keep everything, rather than the assumption they should be changing.
Plant the seeds of change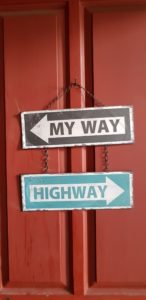 Once you understand why someone is keeping items and they feel genuinely listened to we might be able to have the conversation about change. Once people feel understood, and respected, they are often more likely to be willing to discuss change.
One approach is asking what they would like to be doing with their lives and homes – in an ideal world. Or is there anything their belongings are stopping them from doing that they would like to be able to do. This could be anything from:
Being able to find things quickly
Being able to sit at the table and eat a meal
Having people over to visit
Saving money by not impulse buying
Getting their spare room back (and what would they use it for? A gaming room, craft room, snug, music room etc)
Being able to move around the house more easily
Having more time to do those craft projects they've been collecting bits for
Once someone has thought about what they would like from their home go about helping them achieve that. Few of us make changes in life if we can't see why the physical and emotional effort will be worth it in the long-term. Help them think about what needs to happen to achieve those goals and don't just suggest throwing everything away.
Helping out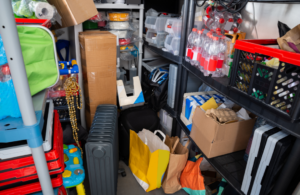 Offer your help within your limits. Ask what would be useful from you for your loved one, your idea of helping and theirs might be two different things. Help people break those big goals down into little achievable steps that are specific and measurable for both of you. It might be agreeing to filling one bin bag or setting a timer on your phone that will tell you when to stop.
Always check with people as you go along about what is feeling helpful. I hope it goes without saying, don't throw things away without someone's consent. This rule will vary from person to person. Some people will say it's ok to throw away anything that might be considered rubbish, other people might want to check everything, let them decide what feels ok.
If you can take the rubbish or charity boxes away, with an understanding that if you do that you won't be able to get them back, then that is always helpful. We are all guilty of putting things for charity, not taking the boxes, and fishing them out again!
It takes a long time for people to accept that their situation may not be what they want. If you're worried about a loved one then being there is the best you can do sometimes. However, always seek professional support if you have immediate concerns about your loved one's safety.
And remember – 99% of the time it is never our place to judge or say people must do something. Even when we believe it is essential it might not always be the most helpful approach.
If any of this resonates with you, whether as a supporter wanting to help or someone at the start of their decluttering journey, please get in touch to request a free consultation or to ask any further questions.
Further information specifically about hoarding:
Information on Hoarding from the NHS