Just over 7 weeks ago I started the Project 333 Challenge (please see my last blog post for details) so thought it was about time to post an update.
Initially, I noticed very little difference, with only one occasion where I wasn't sure what to wear due to needing something quite specific. I did have one item of clothing that worked so it was an easy decision to make but it wouldn't have been my first choice. As time has gone on I will admit to missing having a bit more variety and choice.
I don't think this is through a lack of options but perhaps not making the best choices initially. There are clothes in that 33 items that haven't been worn once and I can't imagine will be worn in the next 5 weeks. I also have clothes that I packed away at the start that I know would have been worn.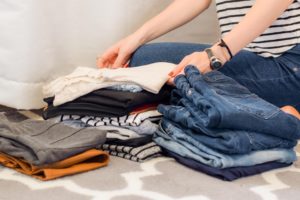 Things I have learned so far:
I definitely didn't need two coats
Putting away my 'for best' wellies was a wise decision even if I wasn't sure at the start
Turns out I only wear one pair of shoes in everyday life whatever outfit I'm wearing
Dresses can't always be a replacement for smart tops, especially in winter. One or two fewer dresses in exchange for a smarter top would be wise
I also didn't need lots of wooly jumpers
To repeat again – I am so pleased I'm not someone who accessorised lots. I haven't missed jewellery but can imagine it adding difficulty with the sticking to 33 items.
I was chatting to a couple of people yesterday about this and how we all have lots of items in our wardrobes we don't wear / use regularly for lots of different reasons. This is a great way to think about what we need to keep or what could be stored away. We hold onto so much because of memories, guilt, or hopes for the future where our clothes are concerned!
If you would like some help with getting your own Project 333 wardrobe (or similar – there is flexibility in this based on your needs and lifestyle) then get in touch. I'm happy to discuss and offer a one-off session option to help organise your wardrobe and thoughts.