I am a big believer in practicing what we preach. As I've never completed the Project 333 Challenge before I thought it would be wise to give it a try.
The Project 333 Challenge is to have 33 items of clothing you choose to wear for 3 months. This includes shoes, coats and accessories. Not included is sentimental jewellery that you never take off, underwear, PJs and 'in-home lounge wear'. I don't think I actually own any lounge wear anyway so that's easy.
The principle behind this is that it frees up space, both physical and mental, and time. You aren't having to start your day with lots of choices about what to wear and it also enables you to be more creative with what you do have. As you know, my hope is for all of us to have more time and space to do what we really love.
I have often thought about trying the Project 333 challenge but haven't for numerous reasons. I think the reality is that I was concerned that it may not work with my life in terms of needing often two changes of clothes a day as I have farm clothes and work clothes. Workout clothes aren't included in the 33 items if actually worn for exercise. As my farm/animal clothes are also worn to the gym a few times a week I've included them in this category.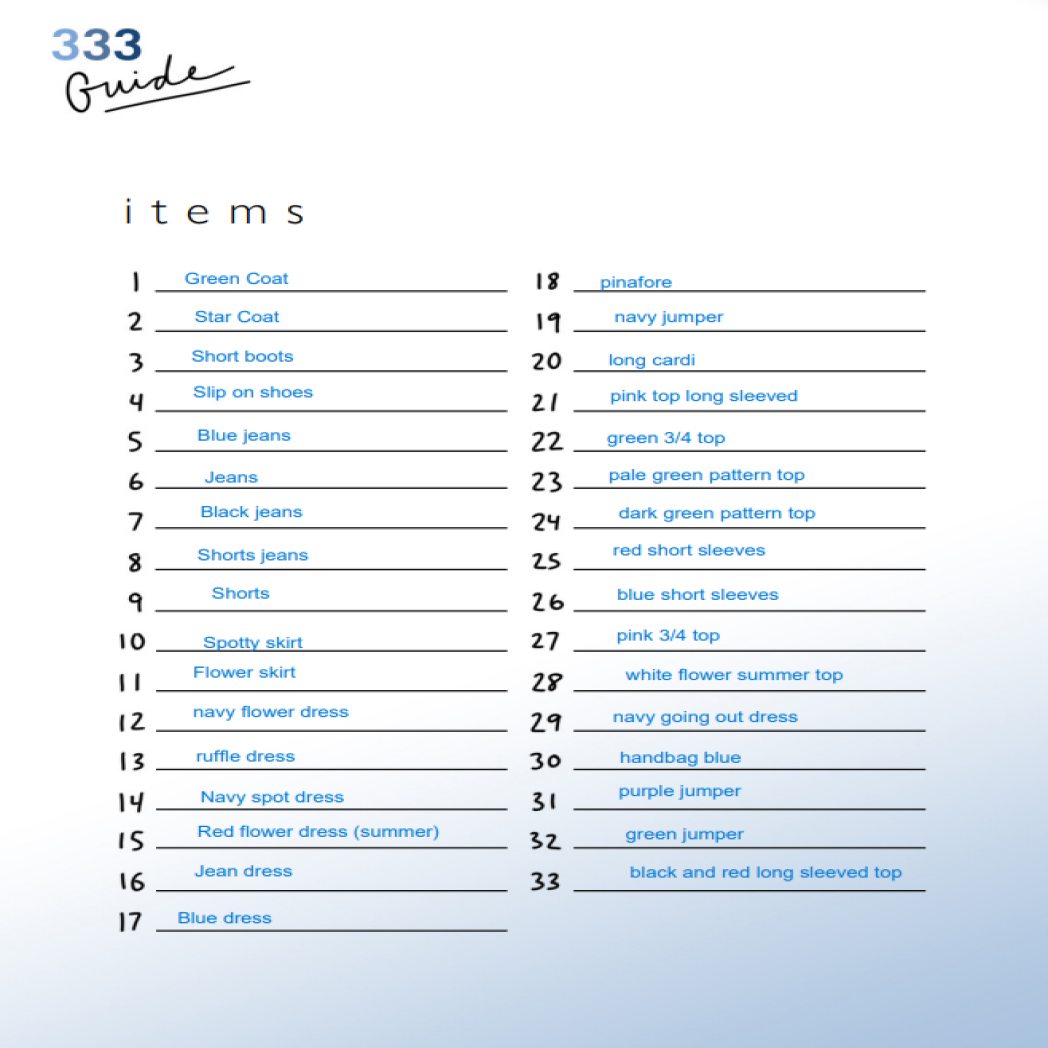 My hope is that I will see what I enjoy wearing regularly and to notice more what I do / don't miss.
I'll create posts along the way about the process as a whole, any surprises and challenges that I didn't expect.
Starting Project 333
Today started by gathering all of my clothes, including those not on the Project 333 list, in one place.
I decluttered first, putting several items in the charity shop box and a couple of definitely-seen-better-days jumpers for fabric recycling. I also decluttered and sorted out the clothes not included in the project and thought it was just a good opportunity to have a bit of a reset generally.
Some items have been boxed up to store for the 3 months, as advised by Project 333.
I'm already wondering if I should have maybe included fewer dresses, though I love a dress, and instead had an extra pair of shoes. Also, whether I will actually miss having more choice.
Get in touch if you would like support decluttering and sorting out your clothes and wardrobe. This will be as much or as little as you would like! The 33 items is a personal challenge for me to experience for it anyone did ever express an interest.